Colorado Company donates over 4,000 protective face shields to First Responders and Hospitals across the Front Range
May 15, 2020
Addressing Face Mask and Face Shield Comments
July 20, 2020
Reusable Protective Face Shields Made in the USA
According to US physician and epidemiologist Michael Edmond, Protective face shields offer more protection against the coronavirus than cloth masks. Reusable protective face shields provide full facial protection from infection causing fluids, spray, splatter and blood borne pathogens.
What is the best face shield?
According to the CDC's Document "Guidance for the Selection and use of Personal Equipment (PPE) in Healthcare settings" the best face shields for PPE protect face, nose, mouth, and eyes – Should cover forehead, extend below chin and wrap around side of face. When skin protection, in addition to mouth, nose, and eye protection, is needed or desired, for example, when irrigating a wound or suctioning copious secretions, a face shield can be used as a substitute to wearing a mask or goggles. The face shield should cover the forehead, extend below the chin, and wrap around the side of the face.

The face shields at faceshields-usa.com follow these guidelines and are reusable. Manufactured by Unified Packaging in Denver, Colorado U.S.A with quality materials.  
Center for Disease Control and Prevention. (2020). Operational Considerations for Personal Protective Equipment in the Context of Global Supply Shortages for Coronavirus Disease 2019 (COVID-19) Pandemic: non-US Healthcare Settings. Retrieved from https://www.cdc.gov/coronavirus/2019-ncov/hcp/non-us-settings/emergency-considerations-ppe.html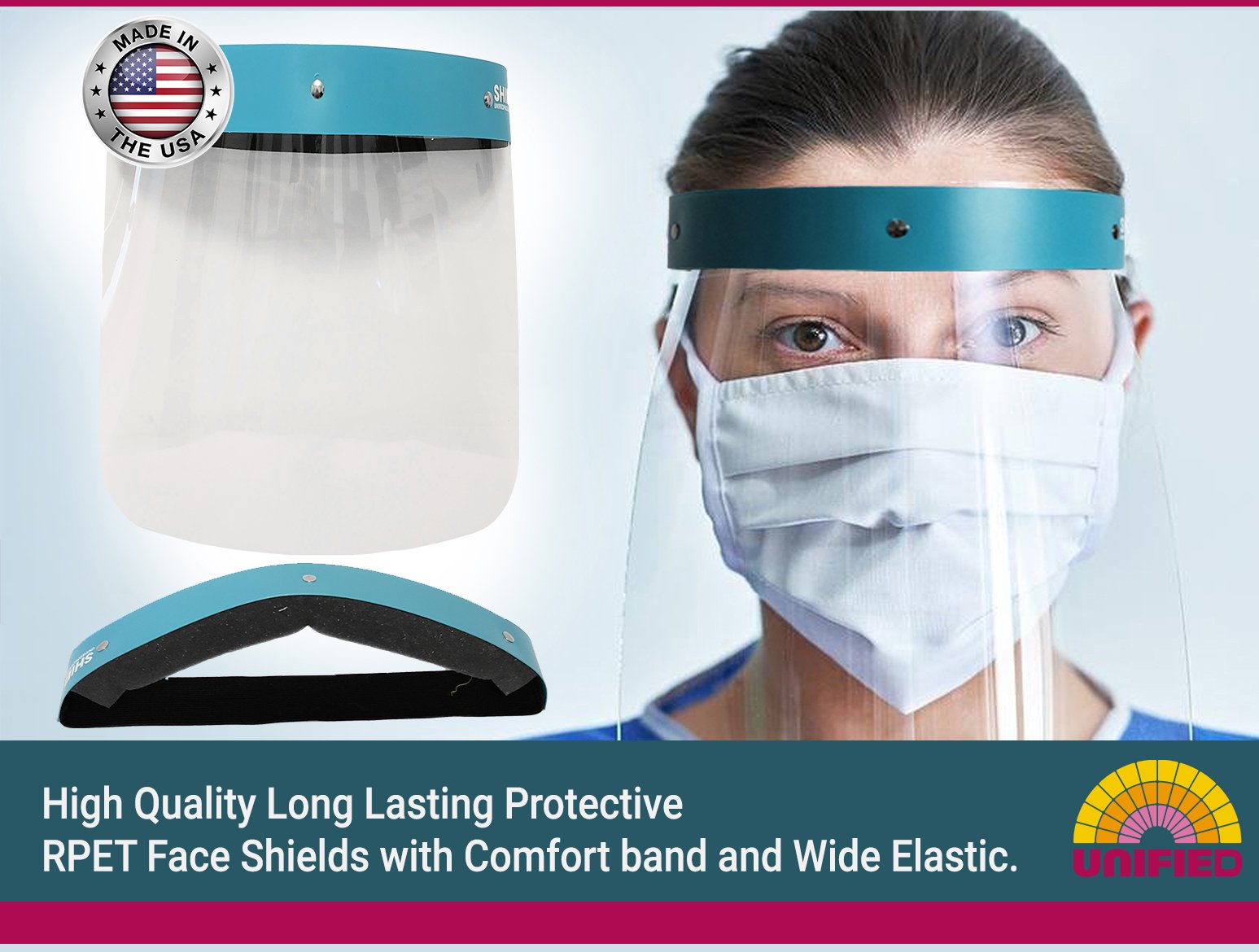 How much does a face shield Cost?
The reusable face shields at faceshields-usa.com range in cost depending on the quantity ordered. Higher quantity orders will lower cost per individual unit as the overhead costs are distributed throughout more pieces of product. For example a lot of 500 protective face shields will cost $9.73 per unit where a lot of 12 protective face shields will cost $19.33 per unit. You may call (303) 733-1000 or email info@unifiedpackaing.com for more details.
Are face Shields good?
According to US physician and epidemiologist Michael Edmond, Protective face shields offer more protection against the coronavirus than cloth masks.
Does this Reusable Face Shield work with Dental Loupes?
Yes, the comfort foam provides additional space for dental loupes making it easier to provide patient care, also the elastic band provides some comfort adjustment.

How do you make Clear Face Sheilds?
At Unified Packaging we make the reusable face shields in our packaging factory, first we gather the 12pt RPET FDA approved material for the clear plastic shield, heavy 23pt thick polyethylene with heavy gauge for the Colored Brow strip, wide elastic for the fitted band and polyurethane comfort sealer foam for the forehead padding. Then we cut the RPET, Polyethylene and foam to the correct size and shape for the face shield, brow strip and forehead padding. Then we secure the comfort foam, clear shield, and brow strip with 3 lifetime guarantee nickel plated rivets. To finish the process the product then enters the sewing department where we sew the wide black elastic band into the brow strip so that the face shield fits sung and comfortable on the brow.   
How do you clean a face shield?
You may clean a reusable protective face shield in a couple ways, you may wash with antibacterial soap (like dawn) and warm water solution, rub gently with cloth to remove any visible soiling, then rinse with clean water to remove any residue. Fully dry the face shield (air dry or use clean absorbent towels).

 You may also clean a reusable face shield with a disinfectant solution like Clorox, Lysol or Clorox wipes, simply wipe down the surface and allow to air dry.
How do I order Or Reorder a Reuseable Face Shield?
If you need to place an order or reorder protective face shields please Please fill out the order form here, call (303) 733-1000 or email info@unifiedpackaging.com