Colorado Company Donates Over 4,000 Protective Face Shields to First Responders and Hospitals Across the Front Range
In the wake of a pandemic and a shortage of materials for PPE, a local Colorado Company decided to step in to fulfill a need. Unified Packaging, Inc. not only sought to produce protective face shields they went a step further, and donated over 4,000 shields to first responders and health care workers, all along the Colorado Front Range. Using their unique skills in manufacturing, Unified Packaging, Inc. knew they needed to do something to help, so they designed these face shields to be durable and comfortable. Using FDA approved RPET material, with comfort foam band, and wide elastic they secured it all with rivets so that the band did not come unglued. Making certain that the community was provided with a protective face shield that could perform.
The feedback has been wonderful. The face shields have been complimented as comfortable and durable. Best of all, they have been a great help to those that need them the most.
With the continued concern for public safety with COVID-19, and as the United States starts to rejuvenate the economy, Unified Packaging, Inc. is making their Face Shields available to the public.
There are many facilities, organizations, plants, manufacturers and businesses across the United States of America (U.S.A) that will need the extra protection for their workers, because of this need Unified Packaging, Inc. has decided to launch FaceShields-USA.com.
FaceShields-USA.com is an extension of Unified Packaging, Inc. Unified Packaging is a custom packaging manufacturer located in Denver, Colorado and in Cape Girardeau, Missouri. Since Unified Packaging does not normally carry stocked product FaceShields-USA.com was developed to feature the Face Shields in their own domain.
Unified Packaging's Face Shields were developed for protection, safety, longevity, comfort, durability and for the Colorado Community.
Face Shield Material and Specifications:
9 ¼" tall x 12 1/8" wide, 12 pt. RPET clear shield.
Brow Strip is 13 ¾" x 1 ½" heavy 23 pt. thick polyethylene with heavy gauge 10 ½" x 1 ½"  wide black elastic snug band.
Foam forehead comfort sealer strip is 1 3/8" x 1" x 11" polyurethane, secured by 3 lifetime guarantee nickel-plated rivets.
Young adult face shield sizes are available in 8 ¼" tall x 10 ½" wide.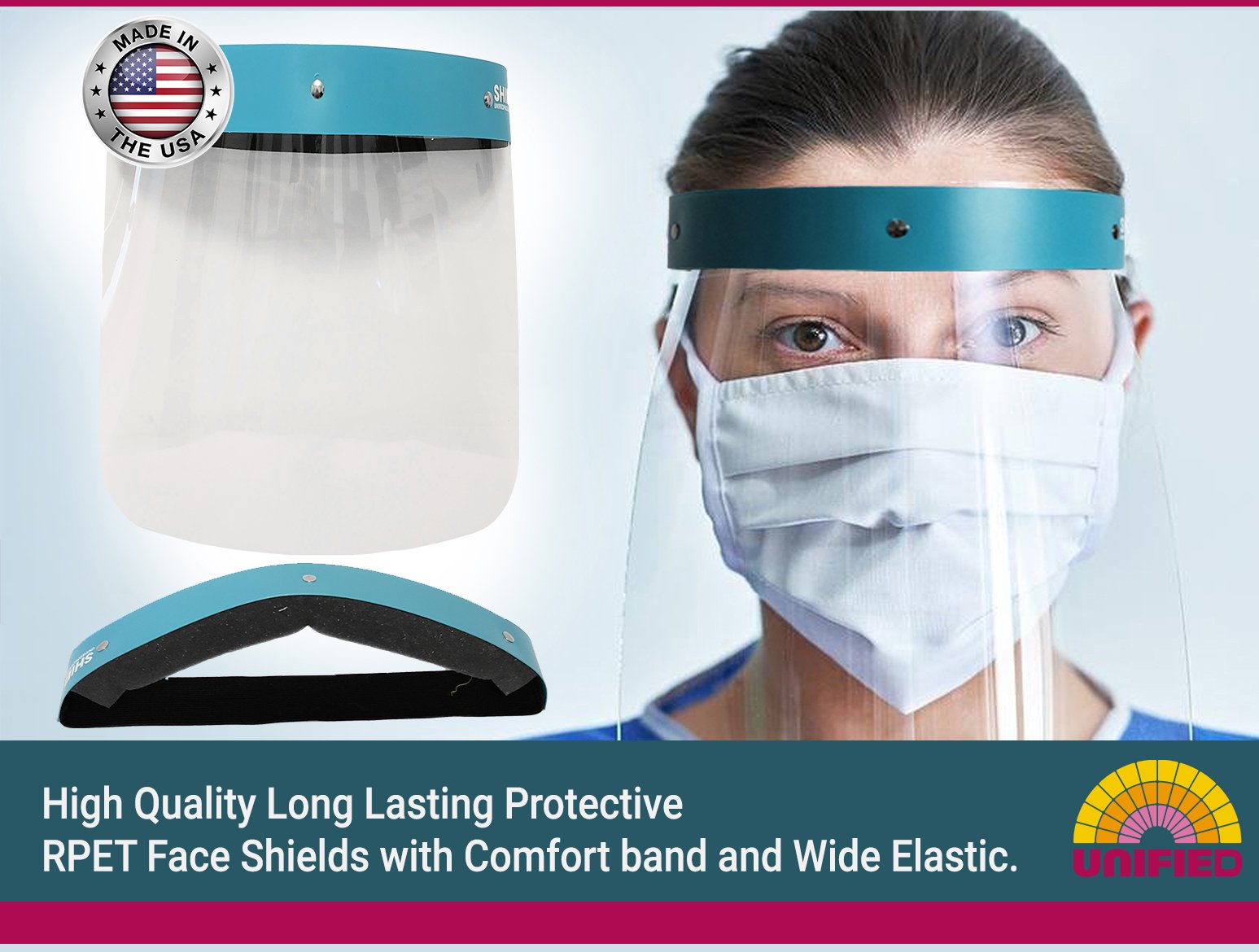 Unified Packaging is a custom packaging manufacturer located in Denver, Colorado and in Cape Girardeau, Missouri. They are a USA company with the largest variety of capabilities in the production of Binders, Boxes, Padfolios, Carry-all Items and Exceptionally Fine Leather Products. They have expertise in many materials such as Genuine Leather, Faux Leather, Pleather, Vinyl, Plus unlimited varieties of Virgin Vinyls, Coated Fabrics and Papers as well as 4-Color Process on Vinyl and Laminated Paper, Acrylics, Poly, Mylar, Indexes, Folders, etc. They also carry a full line of Multi-Media Packaging for CD's & DVD's in vinyl, poly and vacuum formed configurations. Other services include Silk-Screening, Printing, Laminating, UV Coating, Packaging, Fulfillment and Distribution.